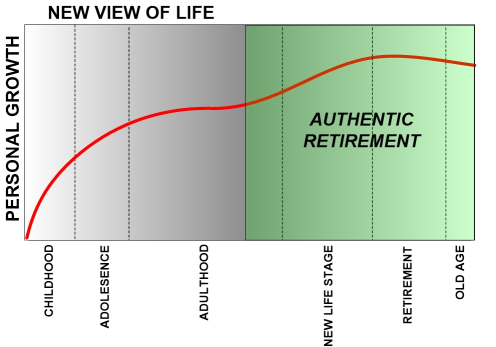 There is an emerging trend in retirement today that not only avoids the all-too-common decline in relevance and quality of life that so many experience, but offers instead the opportunity to continually grow and thrive throughout this unique phase of life.
Traditional views of retirement presume a progressive decline in personal growth and quality of life that begins around our middle adult years and accelerates through retirement and old age. But in contrast to that view, this research also confirms that an increasing number of adults are enjoying a new life stage, a 'second-half' of life that is characterized by increasing personal growth and quality of life throughout their retirement and old age.
The perspective of this new life phase provides the opportunity to achieve the 'new retirement', a term coined by Dr. Richard Johnson of Retirement Options, who defines it like this:
'The new retirement is not an ending; it's a new beginning,
the start of a new life journey of vastly expanded proportion.
But the new retirement is still an emerging trend–it's not the default outcome for most retirees. Achieving it requires that we embrace a new concept of retirement that values meaning over idle distraction, personal growth over extended leisure, and balance in all of the key arenas of our lives.
Unfortunately, many of us harbor perceptions and expectations that challenge our realization of the new retirement. Probably the most common of these is that retirement represents loss, fear of being forgotten, a threat to our identity and a lack of purpose. These concerns are real and exacerbated by the scope and pace of change during our transition to retirement and unless addressed, likely lead to a failed retirement.
It's great to celebrate your transition into retirement with a big vacation or extended travel, but expecting retirement to be an unending vacation is also a likely recipe for a failed retirement. After a year or two, many retirees who take this path become disillusioned or even depressed unless they're able to reevaluate their lives to find purpose and relevance in a more meaningful, enduring lifestyle.
So what is necessary to achieve the new retirement? There are two broad areas of focus: clarifying your authentic self and achieving strength and balance in six key life-arenas that have been shown to support long-term success in retirement:
Benefits of Work and Career              Health and Wellness
Financial Perspective                           Relationship Dynamics
Leisure and Living                                Personal Development.
Both of these pursuits, understanding your authentic self and achieving life balance, are well supported through work with a professional coach–particularly a coach who has been trained to help you address the specific challenges faced in retirement.
So where do we start on that 'new life journey' to your new retirement? There's an axiom in navigation that says:  'It's hard to get where you want to go if you don't know where you're starting from'. But it's difficult to determine on our own how well-prepared we are in each of those six life-arenas I listed. Fortunately, we have several very well-validated, scientific assessment tools that provide that perspective and give you an accurate picture of how ready you are for personal change and renewal. This perspective also helps to set the starting point for work with your retirement coach.
Here are some things that I will do as your coach to help you achieve your new, authentic retirement:
Help shift your perspective to a more
empowering viewpoint
Challenge you out of your comfort zone
Provide accountability when appropriate
Provide feedback and encouragement
Act as a sounding board
Keep you on track
I hope you see the promise of this emerging retirement trend and that you'll step with me into this process of self-discovery and growth to achieve your own unique, enduring, Authentic Retirement.